Science Café
CNSI's Science Café is a recurring informal get-together 'every third Thursday of the month' of staff and guests of CNSI and residents and visitors of St Eustatius to inspire and engage each other in discussions and networking opportunities relevant to knowledge building for the sustainable development of St Eustatius, the Caribbean Netherlands and the Caribbean region. Guests of CNSI will be asked to give lectures for the general public. CNSI also invites speakers from other organisations on a regular basis. These lectures should give an insight into the work CNSI supports and show how it relates to the people's lives and interests. In this way CNSI can reach out to the people of St Eustatius, exchange ideas and gain support at this most relevant level. While enjoying a drink and a snack at the Science Café, the public has the opportunity to take part in the discussion of knowledge priorities, contibuting to a Knowledge Agenda for St Eustatius and the Caribbean Netherlands.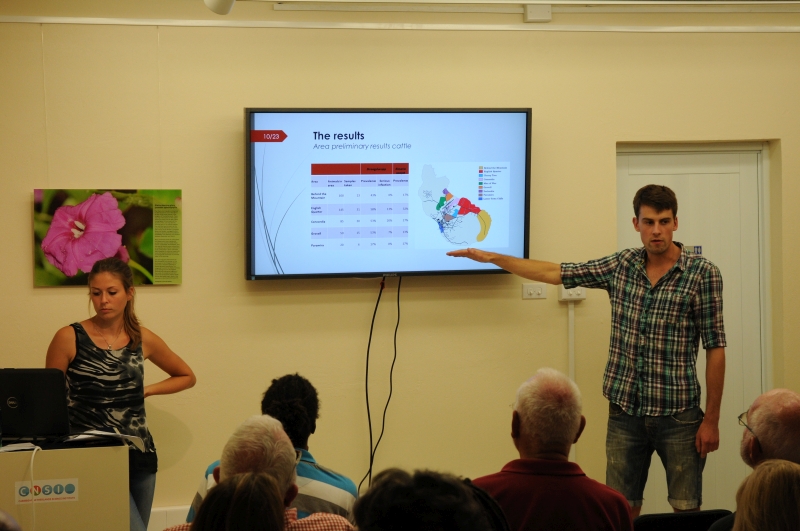 Presentations
Jetske Vaas - Corallita on Statia: precious or pestering pink?
Marieke Zobel - The distribution and dispersion of the Red-bellied racer snake on the Quill
Erik Houtepen & Mervina Redan - Coral Restoration update
Hannah Madden & Frank Rivera-Milan - Population Assessment of the Bridled Quail-dove
Teresa Leslie - Dutch Caribbean preparedness for mosquito-borne infectious diseases (DUCAMID)
Hannah Madden - Nature Awareness
Erik Boman - Size at maturity and reproductive season in queen conch (Lobatus gigas)
Marlous Heemstra and Alwin Hylkema -Small Island Management
Shelley Works and George Works - Weather Forecasting on Statia
Fionne Kiggen - Ecology of Caribbean sea turtles
Gershon Lopes - Soil Degradation
Johan Stapel – Climate Change and Building with Nature
Idske Vermeer - Coastal erosion on St Eustatius
Erik Houtepen - Coral restoration
Tim van Wagensveld - Green iguana threat for lesser Antillean iguana
Frank van Spelde - The Prehistoric Settlement at Godet and Smoke Alley, a preliminary assessment
Thomas Scheepers, Cheryl Oostveen, Lisa & Nina Meels - Aedes Aegypti
Kimberly de Hoo - Evaluation of the IMS-Dengue
Vera van de Beek - A baseline study on (additional) prenatal care on Sint Eustatius
Anika Hagedorn - Food security in Sint Eustatius
Matt Davies - Cataloguing the icthyofauna of St Eustatius Part 2: Which fish do we find where, and why?
Leonie van der Zwet - Giant African Land Snails
Pamela Berkel, Marietza Patrick and Lenaldo Courtar - Statia @ Heart
Matt Davies - Cataloguing the icthyofauna of St Eustatius. Which fish are where?
Jasper Molleman - Effects of Corallita on higher trophic levels
Martin de Graaf - Status and trends of St. Eustatius' coral reef ecosystem and fisheries: 2015 report card
Felicia Fricke - Lives of enslaved individuals
Steve Piontek - Fish attracting devices
Erik de Ruijter van Steveninck and David Goldsborough - Introduction to sustainable island management
Lara Uphoff and Friso Dalm - The Giant African Land Snail on Statia
Indra Firmansyah - Integrated assessment of nutrient flows on St Eustatius
John Hanley - Country presentations sustainable island management Nevis
Shanna Emmanuel - Country presentations sustainable island management St Lucia
Gert Oostindie and Wouter Veenendaal - Confronting Caribbean Challenges: Hybrid Identities and Governance in Small-scale Island Jurisdictions. Presentation of the Results of the Opinion Survey on St Eustatius
Matt Davis - 2015 In-Water Sea Turtle Monitoring
Walter Hellebrand - The Greater The History, ....
Niels Verboon and Amerik Schuitemaker - Beach profile & beach debris survey St. Eustatius
Alice Webb and Didier de Bakker - Bioerosion of corals by excavating sponges in a changing ocean
Kirsten de Klein and Els van Coeverden - Facilitators and barriers towards acceptance of methods used to control disease transmission by the Aedes aegypti mosquito in Sint Eustatius
Tim van Wagensveld - The behaviour and distribution of Iguana delicatissima on Sint Eustatius
Francio Guadeloupe - Futures in the Present: religious, national, and Kingdom perspectives on Statia
Nicole Sanches - Golden Rock I will always miss you: playing with migrancy in the classroom
Jetske Vaas - The French way. Guadeloupe and invasive species management
Elizabeth Haber - Integrating ecology and social science to study invasive plants on Statia
Naturalis - Terrestrial Expedition and Tropical Biodiversity Course
Jessica Berkel and Claire Winfield - Introduction
Jillian Morris and Duncan Brake - The Role of Media and Science in Shark Conservation
Anthony Reid and George Berkel (Ras Jamal) - Plant a cup and save a Buck do it yourself farming tips
Ismael Berkel - Boyhood life on Statia
Anouk Puijk - The analysis of ecological networks on Sint Eustatius
Roland Lopes - A short history of St Eustatius
Ruud Stelten - Ship wrecks of St Eustatius
Elisabeth Haber - Investigating habitat characteristics of terrestrial invasive species on Statia The story of Coralita and Tan Tan
Adrien Lowenstein - Status and trends of the St Eustatius coral reefs
Manon Sanquinet - Lion fish culling program on Statia
Wendy Jesse - Investigating habitat characteristics of terrestrial (invasive) herpetofauna on Statia
Bert Hoeksema, Susan Hewitt - Statia Marine Biodiversity Expedition 2015, Seashells of Statia
Willem van Wijk - Climate change on St. Eustatius
Reynaldo Redan - Fishing on Statia
Lotte Bakker - Determinants of Obesity among the Local Population of Sint Eustatius
Thijs van den Burg - Research and monitoring work on Statias' Iguana delicatessima population
Roy Hooker - Knowledge and Statia
Linde van Bets - Socioeconomic and ecological impact of Nustar
Joseph Wagman - Mosquito-born diseases on Statia
Josh Robertson - Breeding Success of Red-Billed tropicbirds (Phaethon aethereus)
Sophie Vonk - Finding juvenile queen conch at Statia
Bob Ricklefs, Leticia Soares, Steven Latta - Biogeography of West Indian birds and their malaria parasites
Hannah Madden - The native bees of St Eustatius
Steve Piontek, Matt Davies - Global Coral Reef Monitoring Network
Prof Dr Henk Dijkstra - Sea level changes in the Caribbean Sea
Joey de Hamer - Climate change predictions for St Eustatius and its possible impacts on the island
Steffan Walton - Confirming the presence/absence of the Brown Trembler on St Eustatius
Wouter ten Harkel - Modelling rill erosion on St Eustatius
Huite Bootsma - Estimating groundwater recharge on St Eustatius
Sander Hekkema, Raven Cammenga - Sustainable pot fishing and ghost fishing at St Eustatius
Axel van Ruitenbeek, Lilou Verhulst - Gastro intestinal parasites on Statia
Briana Berkowitz - The distribution of Corallita on Statia